Intermix.org.uk is a website for the benefit of mixed-race families, individuals and anyone who feels they have a multiracial identity and want to join us.

Our mission is to offer a view of the mixed-race experience, highlighting icons, film, books, poetry, parenting techniques, celebrities, real lives and much more.

Our online forums are a great place to meet others, ask questions, voice your opinions and keep in touch. Sign up for our monthly newsletter and delve into our pages.

Want to join in? Become an Intermix member to take part:




Daley Thompson - World's Greatest Decathlete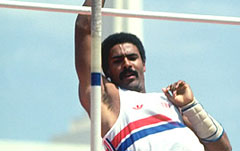 The only athlete to break the world record four times.

Daley Thompson was born Francis Morgan Thompson on 30th July, 1958 to a Nigerian father and a Scottish mother. His love of sport became apparent when he attended boarding school in Sussex.

By 1977 aged 18, he had won his first decathlon, joined the British Olympic team in Montreal, won the AAA's
senior championships, and the European Junior Championships. From here, Daley went from strength to strength. His success continued with a Commonwealth gold medal and silver in the European Championships. Olympic champion in 80 & 84, World champion in 83 and European champion in 82 & 86, and four world records were results which proved him to be one of the world's greatest athletes.

When he declined to carry the Union Jack in the four-and-a-half-hour-long opening ceremonies of the 1982 Commonwealth Games in Brisbane, Australia, it was, he said, to save all of his strength for the decathlon. 'Competition is my life--winning is my only goal,' he has explained. 'Everything I do is directed toward that end and I will never permit anything to jeopardize it...Since winning is the only prize anybody cares about in this world, I would like people to know what it costs.'

Daley attracted publicity for his colourful personality as well as for his athletic prowess and became one of the biggest sports personalities in the world. His increased success brought lucrative endorsements and sponsorship contracts with the likes of Adidas and Lucozade.

He won 19 decathlons in all, when eventually injury led to his retirement.

To date Daley is the only athlete to break the world record four times. He also held the Olympic, World, European and Commonwealth titles, as well as the world record, at the same time. It is unlikely his feat will ever be equalled.

Recognition of his unequalled feats have come with awards like the MBE, CBE and BBC Sports Personality of the Year, proving that not only in the world of sport is he recognised as the World's Greatest Decathlete.