Intermix.org.uk is a website for the benefit of mixed-race families, individuals and anyone who feels they have a multiracial identity and want to join us.

Our mission is to offer a view of the mixed-race experience, highlighting icons, film, books, poetry, parenting techniques, celebrities, real lives and much more.

Our online forums are a great place to meet others, ask questions, voice your opinions and keep in touch. Sign up for our monthly newsletter and delve into our pages.

Want to join in? Become an Intermix member to take part:




Frederick Douglass - Abolitionist - (1817 - 1895)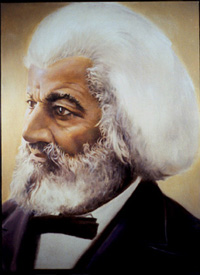 Douglass dismissed the controversy over his marriage to a white woman, saying that in his first marriage he had honoured his mother's race, and in his second marriage, his father's.

Frederick Douglass was born into slavery on the Eastern Shore of Maryland in 1818, and was given the name Frederick Augustus Washington Bailey (Baly), after his mother Harriet Bailey, also a slave. His unknown father was white.

In 1838 at the age of twenty, Douglass escaped to freedom by taking a train from Baltimore to Philadelphia disguised a seaman. He used a friend's papers as identification and the conductor for some reason did not examine the papers too carefully and let Douglas go on his way.

On gaining his freedom he married Anna Murray, a free African woman he had met whilst still enslaved in Baltimore.

Douglass had taught himself to read and write and published a newspaper called The North Star in Rochester, New York. It got its name because slaves escaping at night followed the North Star in the sky to freedom. Douglass' goals were to 'abolish slavery in all its forms and aspects, promote the moral and intellectual improvement of
the COLORED PEOPLE, and hasten the day of FREEDOM to the Three Millions of our enslaved fellow countrymen.'

Renowned for his eloquence, he lectured throughout the US and England on the brutality and immorality of slavery. The North Star and later Frederick Douglass' Paper brought news of the anti-slavery movement to thousands. His job as a major Stationmaster on the Underground Railroad allowed him to directly help hundreds on their way to freedom through his adopted home city of Rochester, NY.

In later life he became a staunch advocate of the Union cause. He helped recruit African American troops for the Union Army, and his personal relationship with Lincoln helped persuade the President to make emancipation a cause of the Civil War. Two of Douglass' sons served in the 54th Massachusetts Regiment, which was made up entirely of African American volunteers. The storming of Fort Wagner by this regiment was dramatically portrayed in the film Glory!

All of Douglass' children were born of his marriage to Anna Murray. After Anna's early death Douglass married his former secretary, Helen Pitts, of Rochester, NY a white woman. Douglass dismissed the controversy over his marriage to a white woman, saying that in his first marriage he had honoured his mother's race, and in his second marriage, his father's.

In 1872, Douglass moved to Washington, DC where he initially served as publisher of the New National Era, which was intended to carry forward the work of elevating the position of African Americans in the post- Emancipation period. This was short-lived when the promised financial backing failed to materialize.

Douglass also served briefly as President of the Freedmen's National Bank, and subsequently in various national service positions, including US Marshal for the District of Columbia, and also became the first black citizen to hold high rank (as U.S. minister and consul general to Haiti) in the U.S. government.

Douglass changed his name many times during his lifetime, he left Baltimore bearing the name Frederick Stanley, in Maryland he was Frederick Bailey and when he married his first wife Anna he had to use the name Johnson to avoid detection. It was another Mr Johnson in New Bedford who finally chose the name Douglass from a character in Lady of The Lake and this was to be the name Frederick kept until his death February 20 1895.