Intermix.org.uk is a website for the benefit of mixed-race families, individuals and anyone who feels they have a multiracial identity and want to join us.

Our mission is to offer a view of the mixed-race experience, highlighting icons, film, books, poetry, parenting techniques, celebrities, real lives and much more.

Our online forums are a great place to meet others, ask questions, voice your opinions and keep in touch. Sign up for our monthly newsletter and delve into our pages.

Want to join in? Become an Intermix member to take part:




William Wells Brown - Novelist & Abolitionist - (1814 - 1884)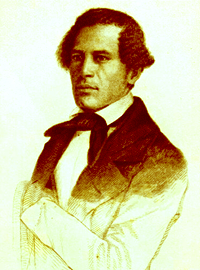 'The nearer a slave approaches an Anglo Saxon in complexion, the more he is abused by both owner and fellow slaves.
A former slave and an abolitionist leader, William Wells Brown wrote the first novel, the first travel book and the first play to be published by an African American. William was born on a plantation outside Lexington, Kentucky, to a white father and a slave mother. It is worth noting that had William's mother been white instead of his father, then William would have been born a free man. The law stated in those days that if a child was born of a white mother and black father, then that child would be free as it was not conceivable that a white woman would knowingly consent to sex with a black man.

On New Year's Day in 1834, William finally escaped from his owners' steamboat while it was docked in Cincinnati, Ohio, a free state. Once free from slavery, William used his literary talents to prove the evils of slavery and to show the importance of black contributions to American culture. William's other two names honoured a white Quaker family, Mr and Mrs Wells Brown, who helped him escape and gain his freedom from slavery.
William often had a hard time being mixed- race and is quoted as having said 'The nearer a slave approaches an Anglo Saxon in complexion, the more he is abused by both owner and fellow slaves. The owner flogs him to keep him in his place and the slaves hate him on account of his being whiter than themselves. Thus the complexion of the slave becomes a crime and he is made to curse his father for the Anglo Saxon blood that courses through his veins.'

In 1949, William began a lecture tour of Britain and remained abroad until 1854. While in England, he published the first edition of his most famous work, the novel Clotel, or The President's Daughter. The plot of Clotel is loosely based on the widespread belief that American president Thomas Jefferson fathered several slave children.

In later years, Clotel has been criticised for its stereotypical portrayal of a tragic mulatto and its melodramatic plot and style. However, the novel was praised by anti-slavery groups for its skill at exposing slavery's horrors. Today, it gives us the chance to understand what life was like for mixed-race people at the time of slavery. The novel spans three generations of mixed-race women up to the American Civil War and does not have a tragic ending as the critics would have you believe.