Intermix.org.uk is a website for the benefit of mixed-race families, individuals and anyone who feels they have a multiracial identity and want to join us.

Our mission is to offer a view of the mixed-race experience, highlighting icons, film, books, poetry, parenting techniques, celebrities, real lives and much more.

Our online forums are a great place to meet others, ask questions, voice your opinions and keep in touch. Sign up for our monthly newsletter and delve into our pages.

Want to join in? Become an Intermix member to take part:




Mixed-Race Duo Make Perfect Combination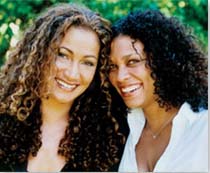 Say goodbye to dry or oily hair.

Two mixed-race women from Los Angeles, tired of waiting for someone to do it for them have created a leave-in conditioner aimed at women with hard-to-manage curly hair.

Wendi Levy, a full-time teacher found it hard to find products for her curly blond hair. 'There was the regular aisle for white hair, and then there was the aisle for black hair-care products,' she says. 'I would always have to blend products just to get them to work. Mixed-race individuals are the forgotten group.'

Kim Etheredge said she found white hair products a little drying and the black ones had too much oil. Both women agreed that a combination of the two would be perfect for their hair so they got together and created Mixed Chicks Leave-In conditioner specially for those with combination hair.

'There are millions of Americans whose hair is like this,' says Kim. 'Many mothers of mixed-race children are very happy with the product. Before they said they didn't know what to do with their daughter's or son's hair.'

Already a success in America, Mixed Chicks Leave-In conditioner is now being sold to Canada and Australia. Kim and Wendi say they'd love to sell to the UK and are looking for a distributor, we'll keep you posted on any developments. They are now busy working on a Mixed chicks Shampoo, in the meantime you can order Mixed Chicks Leave-in Conditioner on their website, click here to visit.
Is your Child's Hair A Nightmare? Read our helpful tips here:
Source: