Intermix.org.uk is a website for the benefit of mixed-race families, individuals and anyone who feels they have a multiracial identity and want to join us.

Our mission is to offer a view of the mixed-race experience, highlighting icons, film, books, poetry, parenting techniques, celebrities, real lives and much more.

Our online forums are a great place to meet others, ask questions, voice your opinions and keep in touch. Sign up for our monthly newsletter and delve into our pages.

Want to join in? Become an Intermix member to take part:




Hair Reversion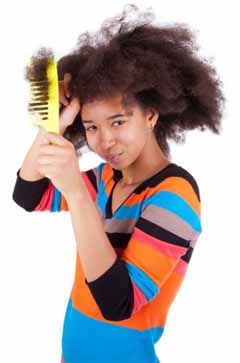 Hair reversion is not a bad thing it is just your hair going back to normal and is a sign of healthy hair.

Hair reversion is where straigtened or blow dried hair reverts back to it naturally curly state. Hair reversion also occurs when afro hair gets wet by washing, swimming or getting soaked in the rain. A combed afro can lose several inches in height especially if the hair was plaited the night before.

People who use relaxers and other types of permanent straightener sometimes get hair reversion over long periods of time as the chemicals start to wear off.
Hair reversion is not a bad thing it is just your hair going back to normal and is a sign of healthy hair. It is worth finding a style you like when your hair is in its natural state this will give your hair time to recover from the heat and chemical processes you might put it through.

Hair can be more difficult to manage once it has reverted. Combing can hurt, especially young children not old enough to do their hair themselves.

Try combing the hair when it is wet with a wide tooth comb. Some hair can just be teased with fingers when it wet and very rarely needs combing but it does depend on the hair texture. There are many mixed-race people with hair like this but also many who would end up with very matted hair if they left it uncombed.

All hair is unique and so you will have to experiment to find out what works best for your hair. If you are lucky you might find a hairdresser that specialises in mixed-race hair but even then it can be hit and miss because the texture of mixed-race hair is so varied.