Intermix.org.uk is a website for the benefit of mixed-race families, individuals and anyone who feels they have a multiracial identity and want to join us.

Our mission is to offer a view of the mixed-race experience, highlighting icons, film, books, poetry, parenting techniques, celebrities, real lives and much more.

Our online forums are a great place to meet others, ask questions, voice your opinions and keep in touch. Sign up for our monthly newsletter and delve into our pages.

Want to join in? Become an Intermix member to take part:




Love Your Freckles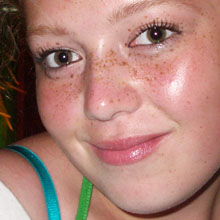 'A face without freckles is like a night without stars.'

Love em or hate em, freckles are a common feature for many of us and the word is they're the next big thing to hit the catwalks.
Described by some as angel's kisses, freckles are not harmful or the sign of a health problem. Irrespective of skin color, it is the uneven distribution of the melanin pigment in the skin that results in freckling. A freckle is nothing more than an unusually heavy deposit of melanin at one spot in the skin.
Some people's freckles fade away almost completely in the winter and return in the summer. Other people's freckles don't change much with or without the sun and can be seen all year-round. Freckles also tend to fade as people get older. Whether you're freckled or not, be sure to wear sunscreen and follow other sun-safety rules.

Pumpkins were once recommended for removing freckles and even today many people go to great lengths to try remove their freckles often resorting to skin lightening creams and laser treatment. Many celebrities have their freckles digitally removed from their photos and the wonders of television mean that there's hardly a freckle in sight on the box.

All that is set to change now that freckles are back in fashion and watch out for a sudden emergence of freckle faced celebrities and models everywhere.

Five Things You May Not Know About Freckles

Cats can have freckles. They can appear anywhere on a cat's skin and even in its mouth.

Freckles were painstakingly painted onto Cate Blanchett's face, arms, and chest to make her resemble Katharine Hepburn. for the film the Aviator.

In studies of twins, including pairs of identical twins and pairs of fraternal (nonidentical) twins, it has been found that among identical twin pairs, there was a striking similarity in the total number of freckles found on each person. Such similarities were considerably less common in fraternal twins. This clearly confirms that the occurrence of freckles is influenced by genetic factors. In fact, the variations in freckle counts appear to be due largely to heredity.

Freckle Juice by Judy Blume is the story of a boy who buys a recipe to grow freckles - with disastrous results!

Best freckle quote: 'A face without freckles is like a night without stars.' Anon


Having a bad hair day? Click here for our useful feature:
Source: