Becoming A Bone Marrow Donor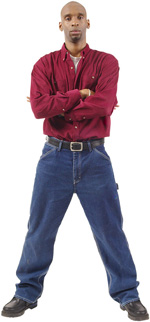 The chances of finding a bone marrow donor for someone who is black or mixed-race is 1 in 100,000 and with only 20,000 people registered it is more important than ever to seriously think about becoming a donor. We've put together details of what happens if you decide to become a donor with the Anthony Nolan Trust (ANT).
Who Can Become A Donor
It does not matter if you have Sickle Cell Trait, drink or smoke, etc. Also your Blood group is not important as matching is not based upon having the same blood type as the sufferer.
You must be in relatively good health and have no history of severe back problems, hepatitis, heart disease or cancer & possess a positive attitude and pride in wanting to become a donor.
No special diet or physical program is necessary, but individuals must not be severely under or over the expected weight for their height.

The Registration Process
The process is simple when you register you will be asked to fill out a
simple medical form then you will have a counselling session explaining what happens next. A small blood sample is taken and you are then put onto the database.
You then have to wait, after all you might not be a match now but could be for someone in the future. Please remember to inform the Trust if you change your address.
If at any time in the future you ever match with a patient, the ANT will contact you for further blood tests to determine if you are a suitable donor for the patient.
If you are selected as a match for a patient, you will then undergo a thorough physical examination as well as counselling to assist you in making the decision to donate.
What Happens If I Become A Donor?
Bone Marrow is a blood like liquid, which can be donated by one person and transplanted into another person in a simple procedure. Only 2 percent of the donor's marrow is donated to the sufferer. A person's Bone Marrow type is an inherited characteristic and the chance of finding a matching donor for a patient is GREATER if the donor is from the same Racial/Ethnic background.
The donation procedure itself takes place under a general anesthetic and takes about 45 minutes to an hour. About 2-3% of your bone marrow is removed, a few tablespoons at a time, through a small incision in your hip. (not the spinal area) The removed bone marrow fluid will fully replace itself within 3-10 days after the procedure. Most donors experience mild back pain for a few days following the surgery and some fatigue. It's worth noting, though, that most donors say they would donate again if asked.
The alternative is where the Marrow can be donated in its purest form as Stem Cells in a procedure called a Preipheral Blood Stem Cell (PBSC). It is simple where no general anesthesia is needed as for 4 hours blood is drawn from a vein in one arm, directed into a special filtered machine which keeps the Stem Cells but directly returns the blood to a vein in the other arm. You are wide awake and can return straight back home or to work.
Will It Hurt?
The process is quick and fairly painless. Most donors report soreness in their hip as if they'd been doing strenuous gardening, or as if someone was standing on their hips or back as the most uncomfortable side effect.
Virtually all donors say they would donate again after doing so. The over fear is will I suffer from giving my bone marrow to someone. The answer is no, all that is taken from you is around 2 to 3% and that will be replenished by your own body function within 10 days so you will loose nothing.
Finally
Becoming a Bone Marrow donor is a serious decision. You need to think carefully about becoming a donor and feel sure that you will follow through with your decision. Patients know their chances of finding a match are so slim. Therefore when the database finds a match and the person cannot be found, or is but changes their mind about donating, it can take a heavy toll on the suffering patient.

For more information click here to contact the Anthony Nolan Trust: