Seasonal Safety Tips: Celebrating Safely!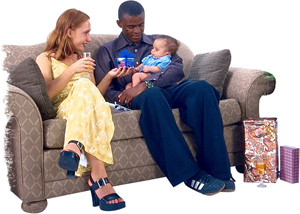 Accidents inevitably happen over Christmas and New Year but don't panic. Statistically, your household has only a one in 750 chance of a tinsel trauma.

While there's no need to over-react, it's down to you to increase the odds against an accident by following a few simple seasonal safety tips.

Present tense
Before you buy a bargain, make sure it's safe. Don't buy unlabelled toys, make sure toys conform to British Safety standards, and are suitable for the age of your child. Don't be afraid to (discretely) check that gifts from friends and grandparents are safe.
If you're buying your child a bike this Christmas, make sure you buy a cycle helmet too. And if they're going to be riding after dark, cycle lights and reflectors are a must, as are reflective or fluorescent clothing or accessories, to enable them to be seen clearly on the roads.
All the festive paraphernalia of candles, cards, decorations and wrapping paper can be a fire risk so dispose of wrapping paper and packaging as soon as you can. Throw it in the bin (or better, still recycle it) rather than burn it on an open fire.
Gift wrapping, like bags, paper, ribbons and bows, or burst balloons, can pose a choking hazard for under-threes.

Christmas candles
Candle safety is common sense but sticking to these six tips will help ensure nobody gets their fingers burned - or worse:

Guests and parties
Things that are second-nature to parents are not so obvious to child-free guests so check everybody knows basic child-safety 'house rules' such as don't leave matches, lighters or medication lying around. On the same note, if you're playing host to small children and your own kids are older, bring the stairgate and socket covers out of the attic and make sure your bathroom is safe for visiting children.
If you're going to allow smoking at a party, provide lots of ashtrays. Check around and under sofa and chair cushions for smouldering cigarettes afterwards, as guests can be careless when they're tired or have been drinking. However, few people will object to the safer option of smoking in the garden only, especially with children around.
If you have overnight guests staying the night, make sure they know emergency escape routes, how to open the front door and where the door keys are.

Christmas spirits
Make sure Santa's the only one drinking his glass of sherry - even a small amount of alcohol can be dangerous for young children. The same applies to any drinks lying around after parties, particularly if little ones are likely to be awake and unsupervised the morning after.
When teenagers drink alcohol, it may not be by accident. Be on the lookout for teens (and other inexperienced drinkers) helping themselves to more festive spirit than is good for them. If a reveller is obviously under the influence, offer them plenty of non-alcoholic drinks instead of booze and confiscate their car keys if they are driving.
Be aware of the symptoms of alcohol poisoning. If someone is breathing less than 12 times a minute or stops breathing for periods of 10 seconds or more, if they are asleep and can't be woken, or if their skin is cold, clammy, pale and bluish in colour, call 999 for an ambulance.
If a person is 'sleeping it off', check them regularly and don't leave them alone at all if you think there is any cause for concern.

: