Intermix.org.uk is a website for the benefit of mixed-race families, individuals and anyone who feels they have a multiracial identity and want to join us.

Our mission is to offer a view of the mixed-race experience, highlighting icons, film, books, poetry, parenting techniques, celebrities, real lives and much more.

Our online forums are a great place to meet others, ask questions, voice your opinions and keep in touch. Sign up for our monthly newsletter and delve into our pages.

Want to join in? Become an Intermix member to take part:



The Sandra Laing Story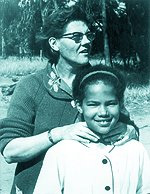 'My father was furious because I married a black man. He threatened to shoot first me then himself if I ever put my foot over his threshold again.'

When Sandra Laing was born in 1955 in Piet Retief, a small conservative town in South Africa, her dark skin and Afro hair may have caused her parents some concern but they dared not admit it. They were both members of the National Party and supporters of the Apartheid system and Sandra visibly resembled what they considered to be the inferior race.

Her parents ran a grocery shop, and in the early years Sandra was happy. Treated as white by her parents and two brothers, Adriaan and Leon, she attended the Dutch Reformed Church and was reared as a God-fearing Afrikaner superior to blacks and Coloureds,( those of mixed race). Sandra's tight black curly hair and ever-darkening skin was noticeable to all and she wasoften told by her mother to avoid the sun. Teachers looked away when classmates called her a kaffir (derogatory term for a Black person) and one day, after five years at the Deborah Retief boarding school, the principal told her to pack her bag; she was being expelled. Two policemen escorted the 10-year-old home.
Sandra's family were told she would have to attend a school for black children. With Apartheid in full swing the local community obeyed the wishes of the state and punished the family: ignored at church, refused ice cream at shops, rejected by nine schools, cursed. Abraham Laing appealed in vain against Sandra's reclassification as coloured and she ended up in a boarding school 900km from home. In 1967 at the age of 12 Sandra was reclassified as white when the law changed to say the child of two white parents could not belong to another racial group. Blood tests proved she was the biological child of Abraham and Sannie.

Even after the DNA tests proved Abraham was her father, and despite being classified as White by law, Sandra was still ridiculed and shunned by the white community, her only friends being the children of the black servants. She began to feel more comfortable with non-whites and at the age of 16 she eloped with a Zulu-speaking vegetable-seller, Petrus Zwane.

'Myfather was furious because I married a black man,' Sandra told Rory Caroll, of The Guardian. 'He threatened to shoot first me then himself if I ever put my foot over his threshold again.'

Sandra was put in a difficult position when she had two children with Petrus. She was classified as white but her children were black, under the rules of apartheid Sandra would not be allowed to keep her children unless she was reclassified as Coloured. Her father needed to give his consent for that to happen and Abraham refused. With no papers Sandra had to eke out a living doing odd jobs.

Sandra's marriage to Petrus didn't last. When the family were evicted from their town to make way for whites, Petrus turned drunk and violent and Sandra, destitute, placed the children with social welfare, 'the hardest decision of her life,' she said. Some time later Sandra married Johannes Motloung, and had another three children after being reunited with her first two.
In the 1980s Sandra tried in vain to contact her family, only to learn Abraham had died and Sannie did not want to see her.

At the turn of the century, the Johannesburg Sunday Times found Sandra in a township on the East Rand and arranged a tearful reunion at a nursing home with her mother. Her brothers said to be right-wing, still shun her.


Since Sandra's story came to light there have been fierce discussions online with many doubting that the DNA test that proved her biological connection to her father was correct. However there have been other cases of children of colour being born to white parents and there are also children who look white being born to parents of colour. In the 20th century the term used to describe these children was throwback, a derogatory term which should not be used to describe any living being. These children are mixed-race and should be described thus.

Sandra Laing's story has now been made into a film entitled Skin, which premiers in London in July 2009


: