Intermix.org.uk is a website for the benefit of mixed-race families, individuals and anyone who feels they have a multiracial identity and want to join us.

Our mission is to offer a view of the mixed-race experience, highlighting icons, film, books, poetry, parenting techniques, celebrities, real lives and much more.

Our online forums are a great place to meet others, ask questions, voice your opinions and keep in touch. Sign up for our monthly newsletter and delve into our pages.

Want to join in? Become an Intermix member to take part:



Taming Those Curls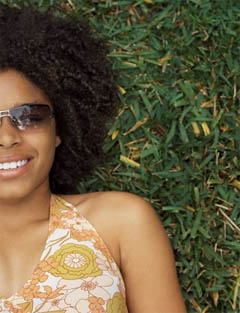 It took Natalie Ambersley ten years to fall in love with her hair, now she wouldn't swap her 'natural bounce' for anything.

When I was younger I always dreamed of having long, straight hair that laid flat and never moved even in the strongest of winds! What do I mean? Well, being of mixed race parentage, I was born with the complete opposite, big, thick brown hair that curled at every opportunity, regardless of whether I straightened it or slept in one of those unattractive hair nets! This was hair that I, and my mother found difficult to keep under control.

I will always remember as a child, when my mum would sit me down in between her legs every morning before school, battling with my hair, combing it, greasing it and making sure it was tightly pulled into a secure bun without a single strand out of place. Many a time, tears were shed as she tried to comb out all the knots from the day before, which was made increasingly worse after a night's sleep.
When I came of age and was old enough to take on the responsibility of taming my tresses myself, my mum was more than happy to place the afro comb securely into the hands of its new owner: Me. The result of this natural transition was that I was now spending numerous mornings crying into the mirror because my hair was big, curly and never styled the way I had instructed it to. I wanted flat, straight hair like all my friends, not a huge pile of frizzy curls that resembled the likes of Diana Ross during her Supreme days. So my way of dealing with this was to cut it off, something I undeniably regret. Going for the big chop made no difference, the dreaded curl was still there ingrained into my scalp, and I was still reduced to tears every time I looked in the mirror and wondered 'what am I going to do with you today'?
Now, after ten years of fighting it, I have grown to love my curls and wouldn't want rid. I spend most mornings trying to make my hair look bigger, rather than trying to make it look as flat as a piece of paper! For me, it's a case of the bigger it is, the more confident I feel. The general assumption with such a style is that I must be bold and confident if I can wear my hair so dramatically, none of which is true. I just like to be a bit different and not succumb to the norm. So it's no straightners, relaxers or hair dryers for me, just a natural bounce that I wouldn't swap for anything!


We've got two copies of Princess Katrina And The Hair Charmer
to give away in our easy competition, click here to enter:
Click here to read more Leon Mann interviews:

: