Intermix.org.uk is a website for the benefit of mixed-race families, individuals and anyone who feels they have a multiracial identity and want to join us.

Our mission is to offer a view of the mixed-race experience, highlighting icons, film, books, poetry, parenting techniques, celebrities, real lives and much more.

Our online forums are a great place to meet others, ask questions, voice your opinions and keep in touch. Sign up for our monthly newsletter and delve into our pages.

Want to join in? Become an Intermix member to take part:




Footballers Get A Word In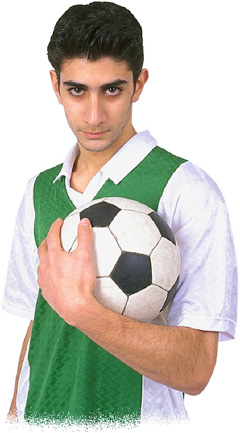 Tiger Woods opened America's eyes to the inaccuracy of seeing ethnic identity in terms of black and white. In Britain, the debate has not begun - but, in a series of exclusive interviews, Observer Sport reveals a surprising depth of feeling.

You have only to look at England's World Cup squad this summer. Six out of seven of the players described as 'black' were mixed-race, but this was not mentioned on TV or in the written press. Mixed-race people account for about 1.4 per cent of Britain's population, so for mixed-race footballers to make up 26 per cent of England's elite is a huge achievement. Theirs is the fastest growing ethnic minority in the country and yet 'mixed- race' was included in the UK census for the first time only in 2001. Factor in that a high number of mixed-race children are raised in single-parent households and that mixed-race people are more likely to be victims of crime than any other ethnic group in Britain and it becomes all the more apparent as to why their achievements should be applauded.

This year, football's anti-racism campaign, Kick It Out, launched their week of action around the slogan 'One Game, One Community'. But mixed-race challenges conventional notions about community. The very different stories of the six World Cup players gives an indication of how diverse that term can be.

Ashley Cole is a good example. He isn't offended by being described as black. 'But,' he says firmly, 'I call myself mixed-race.' Ashley was raised by his mother in east London. 'It was a predominantly white home environment. I didn't really see my black family. At home we ate English food; when we went to parties we didn't listen to soca or reggae, it would be English music. But in football you're just seen as black or white; I don't think people realise the difference.'

But being either black or white in football can be difficult, as Stan Collymore's autobiography, Tackling My Demons, explains. 'Show me two rooms,' he wrote, 'one with black footballers, one with white footballers, and I would pick a room on my own.' Collymore, who grew up with his white mother in Cannock, felt alienated by the urban black culture he encountered at his first club, Crystal Palace. He says he felt 'torn apart' and 'isolated'.

Growing up surrounded by white faces in Welwyn Garden City in Hertfordshire, David James was the only non-white child at his junior school. 'I was called a coon and a black bastard,' he says. 'I lived with my white mum so I couldn't go back to an ethnic home and relate the experience. At school I was asked if I was adopted. I got confused and I'd go home and ask my mum if I was divorced.' James believes that there was a direct correlation between bullying because of his mixed-race background and his low self-esteem. 'Trying to break records in goal was all about proving that I was valuable.'

Curtis Davies, the West Brom defender, whose mother is English and father is from Sierra Leone, says the distinctions between black and white are important to him. 'I'm as much white as I am black. People have got to acknowledge that. My mum is white and I don't want people to discount that.' Davies has an older half-brother who is white. 'Every time we went to football people couldn't believe we were brothers,' he says. 'They couldn't take that I could be related to a white person.'
Jobi McAnuff says the same of his white cousins who sometimes watch him play for Palace. 'My mum's side of the family are from Portsmouth. But I don't think many of the lads at football can imagine me sat round eating a traditional English roast dinner with my white uncles and aunts. People tend to see me as black, but there's a big difference between black and mixed race. I can identify with Tiger Woods on that.'
Jobi celebrates his fluid identity, but he admits that in football there are racial cliques. 'From my experience I get seen as one of the 'brothers'. You walk into the canteen and there's a table of black boys and the white boys are up the other end, but I don't see it as a negative. I'd like to think it's easier for me to cross between groups, but my white friends at Palace still see me as black. People only see skin deep and society says I look more black than white.'
For Curtis Davies, a fluid identity can also raise difficult questions. 'If I'm walking down the street with black mates, it's cold and we've got our hoodies up, we are likely to get name-checked by the police. I've been with my white mates, same area, same hoodies and it's never happened. The police don't even look or slow down. I guess that's another aspect about the split in my race,' he says.
England women's striker Rachel Yankey grew up in west London with an English mother; her Ghanaian father did not live with them. Sometimes it is the small things about a mixed-race background that make the most impression. 'I've been in a shop with my mum and they've looked at both of us and gone, 'I can see you're related', and I'm thinking, 'Why say that?' Or hairdressers, that's the most common one. I remember going to white hairdressers with my mum and they couldn't cut it right, or they put the wrong products in.

Rachel says she feels uncomfortable when people assume things about her because of how she looks. She tells the story of an African mother to a child who attends her coaching sessions. 'She brought in some traditional African food for me and asked if I knew what it was. She wasn't quizzing me, but I felt that being half-African I should know. It bothered me that I didn't. I felt I had to explain. I said that my dad didn't bring me up, I didn't grow up eating African food.'

The example of Stan Collymore and his rooms full of black and white people elicits interesting responses. David James says he would probably hang out on his own, while Curtis Davies is aghast at the idea of having to choose. 'Choosing which room to go into?' he says. 'That's like choosing who to save from a burning building, your mum or your dad.'

Rachel Yankey's view is more complex. 'When you go in the white room you know you're different looking, but I've grown up with white people so that's probably where I'd feel most comfortable. When you go in the black room you look similar but you don't feel as comfortable inside. I'm happiest when I'm surrounded by a mix of people.'
Source:The Observer
: