Intermix.org.uk is a website for the benefit of mixed-race families, individuals and anyone who feels they have a multiracial identity and want to join us.

Our mission is to offer a view of the mixed-race experience, highlighting icons, film, books, poetry, parenting techniques, celebrities, real lives and much more.

Our online forums are a great place to meet others, ask questions, voice your opinions and keep in touch. Sign up for our monthly newsletter and delve into our pages.

Want to join in? Become an Intermix member to take part:




Silver Shoes
Caroline Binch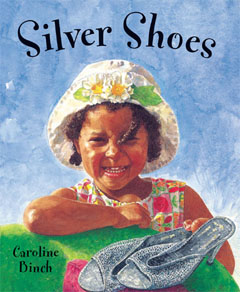 Frances Lincoln

Price: £6.99
Molly loves to dance and she desperately wants some silver shoes to wear to her first dance class. But her mum says she has to wait and see if she likes the classes first. Nearly all the other girls are wearing silver shoes. To make things worse, Molly's best friend is one of them!

Silver Shoes by Caroline Binch is a wonderful story about a girl in a happy loving mixed race family. The illustrations are beautiful and realistic and it is so refreshing to see the amount of detail that has gone into the images. Young children are always very interested in the pictures and these are as good as being there.

The story itself teaches children the process of waiting
for something special and thus in turn helps them appreciate what they already have. A very important lesson in todays must-have-now society.

Silver Shoes by Caroline Binch is the book your children will read to their own children.

Silver Shoes by Caroline Binch is available to buy now.