Intermix.org.uk is a website for the benefit of mixed-race families, individuals and anyone who feels they have a multiracial identity and want to join us.

Our mission is to offer a view of the mixed-race experience, highlighting icons, film, books, poetry, parenting techniques, celebrities, real lives and much more.

Our online forums are a great place to meet others, ask questions, voice your opinions and keep in touch. Sign up for our monthly newsletter and delve into our pages.

Want to join in? Become an Intermix member to take part:




Black & White
Rob Childs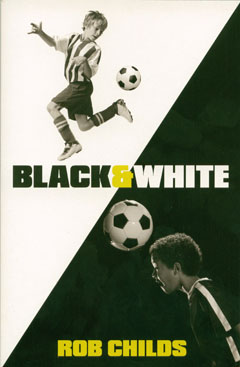 Frances Lincoln

Price: £5.99
Josh is soccer-mad and can't wait to show off his ball skills to his new classmates. After all, he is the nephew of Ossie Williams – the best footballer in the country.

Josh's arrival helps to give shy Matthew more confidence, but it is not welcomed by Rajesh, the school goalkeeper and captain. With important seven-a-side tournaments coming up, will the players be able to settle their differences and work together as a team?

Black & White by Rob Childs is a great story about football for boys and girls. It's got all the things a good football story should have like friendship and teamwork and girls on the team plus it touches on some of the negative aspects such as racism.

Black & White by Rob Childs is available to buy now.