Intermix.org.uk is a website for the benefit of mixed-race families, individuals and anyone who feels they have a multiracial identity and want to join us.

Our mission is to offer a view of the mixed-race experience, highlighting icons, film, books, poetry, parenting techniques, celebrities, real lives and much more.

Our online forums are a great place to meet others, ask questions, voice your opinions and keep in touch. Sign up for our monthly newsletter and delve into our pages.

Want to join in? Become an Intermix member to take part:




Bone By Bone By Bone
Tony Johnstone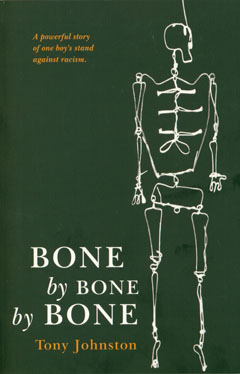 Frances Lincoln

Price: £6.99
Malcolm and I could no more be separated than green from grass. My daddy had forbidden me to play with him, on account of his being coloured. Though little by little I came to understand the barriers between Negroes and white folks, back then I knew of no rule about two boys not being friends.
The most important thing in David's life is his friendship with Malcolm. In a secret ceremony in a cave they even become blood brothers.

But this is 1950s Tennessee, and Malcolm is black. One day David's fiercely racist father lays down a terrible threat. If Malcolm ever enters their home, he will kill him. David tries to change his daddy's mind, but what will happen if Malcolm ever crosses the line?

Bone By Bone By Bone by Tony Johnstone is a powerful and haunting book, countering the horror of racial hatred with a lyrical tribute to childhood friendship.

Bone By Bone By Bone by Tony Johnstone is available to buy now.