Intermix.org.uk is a website for the benefit of mixed-race families, individuals and anyone who feels they have a multiracial identity and want to join us.

Our mission is to offer a view of the mixed-race experience, highlighting icons, film, books, poetry, parenting techniques, celebrities, real lives and much more.

Our online forums are a great place to meet others, ask questions, voice your opinions and keep in touch. Sign up for our monthly newsletter and delve into our pages.

Want to join in? Become an Intermix member to take part:




Even Stevens
Michael Rosen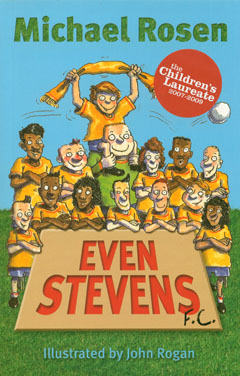 Barn Owl Books

Price: £4.99
Wayne Travis and his mates may not be the greatest footballers in the world but the happy, multi-cultural team of all ages, both sexes and every permutation of colour and faith, certainly knows how to enjoy the great game. But when they are drawn in the first round of the F.A. Cup, things suddenly start to get serious.
Even Stevens by children's laureate Michael Rosen is a must for all young football fans. A hilarious full colour comic picture book, Even Stevens will have you laughing your head off.
Even Stevens by Michael Rosen is available to buy now.