Intermix.org.uk is a website for the benefit of mixed-race families, individuals and anyone who feels they have a multiracial identity and want to join us.

Our mission is to offer a view of the mixed-race experience, highlighting icons, film, books, poetry, parenting techniques, celebrities, real lives and much more.

Our online forums are a great place to meet others, ask questions, voice your opinions and keep in touch. Sign up for our monthly newsletter and delve into our pages.

Want to join in? Become an Intermix member to take part:




Not So Fast Songololo
Niki Daly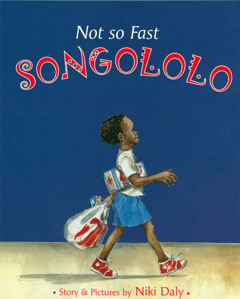 Frances Lincoln

Price: £6.99
Not So Fast Songololo is a touching tale of young and old, full of the colours and smells of an African township.

Songololo goes into the city with Gogo to help her do the shopping. Gogo walks very slowly, but Songololo likes to take his time as well.

Grandmother and grandson enjoy a leisurely stroll around the busy African city, ending with a special reward for Songololo, for helping Gogo so well.

Not So Fast Songololo portrays a loving relationship in which both child and adult think about the needs and capabilities of each other. It is a helpful resource for parents who need to help children understand why they
sometimes need to be more thoughtful around the elderly.

Not So Fast Songololo by Niki Daly is available to buy now.