Intermix.org.uk is a website for the benefit of mixed-race families, individuals and anyone who feels they have a multiracial identity and want to join us.

Our mission is to offer a view of the mixed-race experience, highlighting icons, film, books, poetry, parenting techniques, celebrities, real lives and much more.

Our online forums are a great place to meet others, ask questions, voice your opinions and keep in touch. Sign up for our monthly newsletter and delve into our pages.

Want to join in? Become an Intermix member to take part:




Time To Get Up
Gill McLean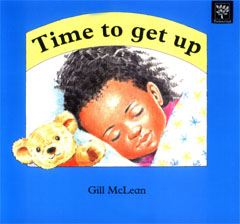 Tamarind

Price: £4.50
Time To Get Up by Gill McLean features Anna, a mixed-race child and her parents in this tale about getting up for school.

When there's a new baby in the house, parents somehow get by with very little sleep. Anna's dad isn't at his best after a disturbed night, but he know he has to get himself and Anna to school on time. He can't understand why she's in no rush...

What is particularly endearing about Time To Get Up is that it focuses on Anna and her father. It is refreshing to see a book that features a mixed-race child with her black father, which challenges the stereotype that mixed-race children grow up without their fathers around.

Time To Get Up by Gill McLean is available to buy now.