Intermix.org.uk is a website for the benefit of mixed-race families, individuals and anyone who feels they have a multiracial identity and want to join us.

Our mission is to offer a view of the mixed-race experience, highlighting icons, film, books, poetry, parenting techniques, celebrities, real lives and much more.

Our online forums are a great place to meet others, ask questions, voice your opinions and keep in touch. Sign up for our monthly newsletter and delve into our pages.

Want to join in? Become an Intermix member to take part:




My Two Grannies
Floella Benjamin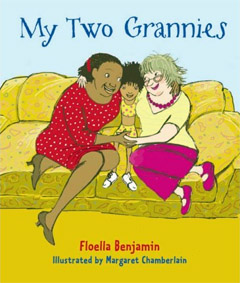 Francis Lincoln Children's Books

Price: £11.99
Alvina has two grannies who she loves with all her heart. Granny Vero is from Trinidad and Granny rose is from England. So when her parents go on holiday,
Alvina can't wait for her two grannies to take care of
her.
But the two grannies like different food, music and stories - and they start getting crosser and crosser with each other. Can clever Alvina think of a way to help her two grannies get along.

Sometimes family relationships can be hard work but
My Two Grannies by Floella Benjamin shows that actually the solutions are often quite simple. This is a wonderful book for children who have family members from different parts of the world or with different cultures. It's a great way for parents and teachers to get children thinking about diversity and recognising that whilst we may be different we all have good things to share with each other.
My Two Grannies by Floella Benjamin is available to buy at all good bookshops now or click here to order online
We've got five copies of My Two Grannies to give away in our competition click here to enter.

Click here to view more children's books: