Intermix.org.uk is a website for the benefit of mixed-race families, individuals and anyone who feels they have a multiracial identity and want to join us.

Our mission is to offer a view of the mixed-race experience, highlighting icons, film, books, poetry, parenting techniques, celebrities, real lives and much more.

Our online forums are a great place to meet others, ask questions, voice your opinions and keep in touch. Sign up for our monthly newsletter and delve into our pages.

Want to join in? Become an Intermix member to take part:




Welcome Kim Lee
Maria Lisa Hartgrove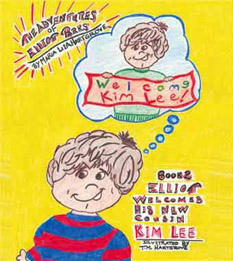 Published by Trafford Publishing

Price: UK £14.99

Welcome Kim Lee, is the second in a series of books about The Adventures Of Elliott Parks.

Eight year-old Elliott is the creation of Maria L Hartgrove and the characters and stories are based around Maria's family and their life experiences.

Elliott is a mixed-race child in a loving mixed-race family but that fact does not always dominate the stories, nor is it mentioned in all of the stories.

Welcome Kim Lee introduces children to the process of international and transracial adoption and gently illustrates the importance of involving both immediate and extended family in welcoming a new family member.

Adopted chiildren not only gain new parents, they usually gain new aunts, uncles, grandparents, cousins and siblings and it's important that everybody plays a part in making them feel welcome in their new family.

Welcome Kim Lee is a great resource for helping parents, carers and other family members answer some of the questions young children often ask about adoption. It also reminds us that though we may sometimes look different from other members of our family, what is important is that we love and look after each other.

The Adventures Of Elliott Parks - Welcome Kim Lee , can be ordered direct from Traffordpublishing.com or UK customers can ring their UK order desk clerk on 0845 230 9601.
Also by the same author: Elliot Wants A Puppy
Visit the Elliot Parks website:
Visit our adoption section
Back to children's books: