Intermix.org.uk is a website for the benefit of mixed-race families, individuals and anyone who feels they have a multiracial identity and want to join us.

Our mission is to offer a view of the mixed-race experience, highlighting icons, film, books, poetry, parenting techniques, celebrities, real lives and much more.

Our online forums are a great place to meet others, ask questions, voice your opinions and keep in touch. Sign up for our monthly newsletter and delve into our pages.

Want to join in? Become an Intermix member to take part:




Oscar's Half Birthday
Bob Graham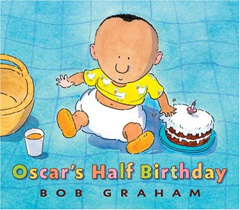 Published by Walker Books
ISBN 1-84428-029-2
RRP £10.99

It's refreshing to find a book for children about a mixed-race family that has found a better use for the term half.

Mum, Dad and Millie can't wait for Oscar's first whole birthday, so the day he is six months old they decide to celebrate.
They pack tuna sandwiches and a chocolate cake with half a candle on top, and set off across the city for a picnic.
This heartwarming tale shows a mixed-race family doing things together and sharing their joy with the community around them.

Oscar's Half Birthday is available in all good book shops.
Have you read this book? Why not let us know your thoughts.
Click here to join the Intermix Forums: