Enigmatic Or Enriched?

Tod O'Brien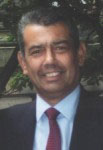 Heritage
I prefer to use the term "Mixed Heritage" to describe myself.
There is actually only one human race and we are all part of it, "mixed race" may imply that there are many races within the one human race and to me that also implies and reinforces the implied hierarchy. I have heritages from several parts of the human race none is more important than the other, they all just contribute to who I am.
Language is extremely powerful and it is the societal context in which I live that makes it more comfortable for others to describe me in a particular way. My choice which can never be taken from me is to describe myself how I wish.

Identity
Identity is a powerful and motivating factor in all our lives. From it we take our roots, we pass on our culture and it helps us to be comfortable in our own skin.
Although I am now 58 years old it has taken me until now to be comfortable to describe my ethnicity as "British Anglo-Indian".
When I say that to people they always look quizzically and ask "So is your Mum Indian and your Dad white or the other way round". The concept of a complete culture of mixed heritage people seems to be alien to them and so unfortunately also to some Anglo-Indians who may sometimes deny their heritage because it is easier to do so than explain our history. There are many successful Anglo-Indians in Britain who choose not to bring attention to their cultural heritage. This I think is very sad when it could help other mixed heritage people be more confident and have more self esteem about their heritage and cultural roots. I am not talking about the white mainstream colonists who may also describe themselves in this way having spent all their lives or even several generations colonising India. I am talking about the people who were manufactured by the British in order to run India, for the British.
When the British went to India they encouraged and sometimes coerced relationships between indigenous Indians and white colonists to produce a new culture of brown faced, British people loyal to the Crown. In these Victorian times it was unheard of for the three different cultures to integrate or mix. The white colonists had their own institutions as did the Anglos and the Indians. "Never the twain shall meet" to quote Rudyard Kipling.
I have found it very difficult to discover my roots, Anglo-Indians per se left India at independence in 1947 onwards and have now settled in the commonwealth countries. My parents came to the UK in 1949 in the year I was born and settled in London. Many of their family also settled here and also in Canada and Australia to name but two other countries. I only realised who and what I was when I went to India at the age of 55 years and visited Lucknow, the town where my parents grew up, lived, got married and went to school. It was an emotional and gratifying experience.
So how has this all helped me? I have been married to a wonderful white English Catholic woman for 37 years. We have four children whose ages range from 33 years to 21 years. They all understand their cultural heritage and are comfortable with it. There is none of the angst that I experienced as a young and older person, they understand they are whole and part of a unique new culture which has a distinct identity of which they can be justifiably proud. This is what I hope myself and my wife, have inculcated in them.

Final Thoughts
It has taken me a long time, almost 58 years but I am not a bit of this or a bit of that. My parents Indian heritage makes me comfortable with Bhangra, curry, other Indians and being in India, my paternal Irish heritage makes me comfortable with Irish people, the Emerald Isle, the Irish diaspora, Irish folk music and my maternal Scottish heritage makes me comfortable in a Ceilidh, eating haggis nips and tatties and evokes great emotions when I hear the Bagpipes played.
It maybe I imagine all this or not, I don't care, I know what I feel and the joy all these things bring to my life.
I am not an enigma, I am a whole being, I am a whole unique culture and I am here to stay because I am proud to be British Anglo-Indian, a proud Londoner who loves my Arsenal FC, to have served my country in the armed services and the police service. Proud to be the father and husband of my loving family who when I have gone will continue the cultural heritage of my fathers and forefathers. I maybe different to you but you do not need to categorise me other than by those things I have already mentioned. You do not need to exclude me for those things, as that will inevitably be counterproductive for all of us.

The Future
The future belongs to all of us who inhabit this great country, who find solace and passion in belonging, not determined by the colour of our skin or our heritage or nationality but through common understanding, acceptance of difference and recognition of the wealth of skills and abilities we all bring to the table of opportunity. This will only be maximised if all have our equal consideration of interests vested in the institutions of Government, Education, Law and societal opportunity.
Please be brave you never know what you might gain. The option of doing nothing with regard to all the "isms" is not an option.

Read more about Anglo-Indians


This paper was first submitted as part of the e-conference mixedness and mixing 4-6 September 2007.
Click here to visit our forums and read the comments posted about this paper or to add your own comments.