Intermix.org.uk is a website for the benefit of mixed-race families, individuals and anyone who feels they have a multiracial identity and want to join us.

Our mission is to offer a view of the mixed-race experience, highlighting icons, film, books, poetry, parenting techniques, celebrities, real lives and much more.

Our online forums are a great place to meet others, ask questions, voice your opinions and keep in touch. Sign up for our monthly newsletter and delve into our pages.

Want to join in? Become an Intermix member to take part:




My Fathers' Daughter
Hannah Pool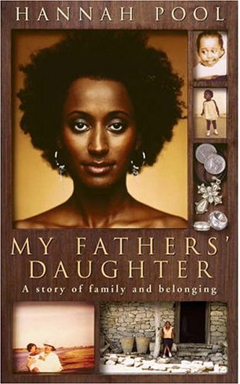 Published by Hamish Hamilton
Price: UK £14.99

Watching the controversy unfold about Madonna's adoption of a child from Malawi conjures up very mixed emotions for me. I was adopted from an orphanage in Eritrea, a tiny war-torn, but beautiful, country in the north east of Africa. My dad David, an English academic, and his American wife Marya were living in Sudan, where he taught at the university of Khartoum.
It was 1974, I was six months old, malnourished and had chickenpox. Marya was told I had no family and little chance of survival - unless I was adopted. We lived in Sudan for four years until Marya died.

For a couple of years I lived with dad's friends in Norway, then he came to take me back to Manchester. He remarried when I was nine, had two children - who I couldn't love more if they were my own - and then, after 13 years of marriage, he and his second wife Claire divorced.

Manchester in the 80s was cold, wet and very, very white. To begin with, I was the only black girl in my year at school. I lost black boyfriends because they couldn't cope with the fact that my family was white and I lost white boyfriends because their parents had forbidden them from dating a black girl.

In many ways, the only thing that was simple about my life was the fact that I had no birth family. And then, one day when I was home from Liverpool University, my dad said he had something he needed to tell me.

The 30-year war between Eritrea and neighbouring Ethiopia had finally ended with Eritrea declaring independence in 1993 and my dad had gone back for the celebrations. On his trip, he'd visited the orphanage in Asmara and met Sister Gabriella, the nun who'd arranged my adoption all those years ago.

My dad gave her a photograph of me and thought no more of it. A few months later, he received a letter from the English priest who'd shown him around the orphanage. I wasn't an orphan; my birth father was still alive. The priest had a letter for Azieb Asrat, the name I'd been given at birth, and it was signed 'from Zemichael Asrat - your brother'.

As my dad passed me the letter, my legs went numb. The letter raised hundreds of questions about my past and they all boiled down to one thing: why? Why was I put into the orphanage? Why was Marya told that I had no family? Why did it take them more than 20 years to write to me? I was so shocked, upset and confused that it took me nearly 10 years to reply to the letter. But, gradually, as I approached 30 I started to think in terms of 'when' I'd trace my birth family, rather than 'if'.

By the kind of coincidence that makes you feel things are meant to be, an Eritrean friend of my dad's who was living in Finsbury park had been contacted by another Eritrean saying his family were looking for a 'lost' daughter who'd been adopted 30 years before by an Anglo-American couple.

A week later I met my cousin Gaim in Chiswick. He told me that my father was still alive and that I had three brothers and a sister. Three months later, I'd arrived in Eritrea and was waiting to meet my birth family.

In the back of the taxi I felt sick with apprehension. As soon as the cab went from tarmac to dust track, I sensed that we must be getting close. My cousin led me down the track and I took a deep breath as I Stepped into a room. Five people stood in front of me - four men and one woman. I looked for oldest man - he held out his arms and hugged me. Then my siblings encircled us and started to cry. And yet the emotion made me feel distant and quite alone.

After we released each other from the hug, I was introduced to everyone. Two of my brothers translated. I was shocked and thrilled by how much their faces resembled my own, especially my sister, Timnit. My father was the first to speak properly.

'He's thanking god for bringing you back to us...It's a true miracle,' said my brother.

My mother had died while giving birth to me - I was a motherless infant living in the village. My family thought it was best I was put up for adoption, but emotions aren't that simple. I wish none of it had happened; I still wish I'd never been adopted.

I hope that Madonna's baby feels differently. But no one can ever really be sure of what the outcome will be. Whichever way you look at the issues involved, it's one hell of a risk.

Hannah Pool's book My Fathers' Daughter, A Story of Family And Belonging is available to buy now.


This article was first published in Now Magazine
Check out our archives for more adult books:
Back to adult books: