Intermix.org.uk is a website for the benefit of mixed-race families, individuals and anyone who feels they have a multiracial identity and want to join us.

Our mission is to offer a view of the mixed-race experience, highlighting icons, film, books, poetry, parenting techniques, celebrities, real lives and much more.

Our online forums are a great place to meet others, ask questions, voice your opinions and keep in touch. Sign up for our monthly newsletter and delve into our pages.

Want to join in? Become an Intermix member to take part:




The Golly In The Cupboard
Phil Frampton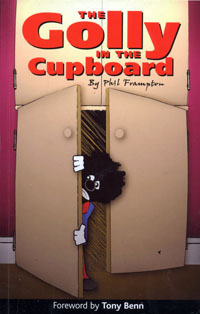 Published by Tamic
Price:£7.99

The son of a Nigerian father and an English mother, Phil Frampton was a child born from love. But love is not always enough especially when your parents are in a mixed-race relationship in 50's Britain.

A time when having a baby out of wedlock was not the right thing for a young teacher and a promising young black mining engineer could be sent back home to Nigeria for falling in love with the wrong woman. A time when interfering busybodies could inflict irreparable damage on a child's life.
When he was born in the seaside village of St Agnes, Cornwall, Phil's mother Mavis believed that the love of her life Isaac would return from his expulsion back to Nigeria so that they could raise their son together, but outside influences were at work and though he sent money for a short time, Isaac would never return.
Mavis put Phil into Barnardo's whilst she went back to work and sought something better for herself and her son. As time went by and the rest of her life got back to normal the bond between mother and child faded and as Mavis married someone else and began her life anew, Peter became another unwanted 'brown baby' waiting for a family that would never arrive.
Phil Frampton wanted to know the reasons behind his abandonment as a child. For several decades he was unable to unwrap the mysteries. In 1999, he finally got to access official records kept on him as a child. Using those records and letters The Golly In The Cupboard tells of how Phil unfolds an odyssey of joy, rejection, love, racism, drama, abuse, intrigue and deception, and records his reaction to his discoveries.
This fascinating, parentless childhood story takes us deep into the world of children's homes, family deceit and abandonment. More importantly The Golly In The Cupboard is a success story of how one boy shone through to become a man to be proud of.

Check out our archives for more adult books:
Back to adult books: