Intermix.org.uk is a website for the benefit of mixed-race families, individuals and anyone who feels they have a multiracial identity and want to join us.

Our mission is to offer a view of the mixed-race experience, highlighting icons, film, books, poetry, parenting techniques, celebrities, real lives and much more.

Our online forums are a great place to meet others, ask questions, voice your opinions and keep in touch. Sign up for our monthly newsletter and delve into our pages.

Want to join in? Become an Intermix member to take part:




Through My Window
Tony Bradman & Eileen Browne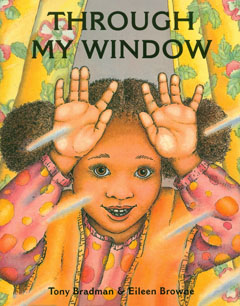 Frances Lincoln

Price £6.99

Jo is ill and has to stay in bed for the day, but her mum promises to bring her home a surprise to make her feel better. All day long Jo looks out of the window waiting for her mum to return, and in the meantime sees all her friends from the neighbourhood, including the postman, the window cleaner and Mrs Ali from next door. But when will Mum be back with her surprise for Jo?

This is a great read for the mixed-race child as it introduces him/her to a family that may be similar to their own. It is also interesting to note that when Jo is ill, it is her father who stays at home to look after her while her mother goes to work.

Finally back in print after a long absence Through My Window is available to buy now.



Click here to buy this book now:

Have you read this book to your child? Why not let us know your thoughts.
Click here to join the Intermix Forums: