London River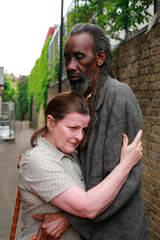 Set against the backdrop of the 7th July 2005 bombings, London River tells the story of a friendship which develops between two seemingly unconnected people - Elizabeth (Brenda Bleythn) and Ousmane (Sotigui Kouyate). Both of them have come to London to search for their children who are missing in the aftermath of the bombings.
Although they come from different religious and cultural backgrounds - Ousmane is an African Muslim living in France and Elizabeth is a white Christian living in Guernsey, they share the same hope of finding their children alive. Putting aside their cultural differences, they give each other the strength to continue the search and maintain their faith in humanity.
Director Rachid Bouchareb had Sotigui Kouyate in mind when he wrote the part and had wanted to work with Brenda Bleythn since he saw her in Secrets & Lies.

London River is a moving glimpse into the mixed-race relationship of two young people, seen through the eyes of their parents as they try to discover more about their children's lives and what has happened to them. To a great extent the viewer is left to draw their own conclussions as to how successful the relationship is but there are many clues within the film which illustrate the obstacles many racially mixed couples encounter and possibly why this couple have chosen to keep their relationship from their parents. What is particularly moving is watching the relationship change between the two parents as they examine their own prejudice and misconceptions.
London River is as important a film as Secrets & Lies and a must-see for anyone interested in mixed-race relationships and their place in social history.
London River is available to buy on DVD now.
Win a copy of London River on DVD
Interview with Rachid Bouchareb
Have you seen this film? Why not tell us your views in the forums, click here: