Intermix.org.uk is a website for the benefit of mixed-race families, individuals and anyone who feels they have a multiracial identity and want to join us.

Our mission is to offer a view of the mixed-race experience, highlighting icons, film, books, poetry, parenting techniques, celebrities, real lives and much more.

Our online forums are a great place to meet others, ask questions, voice your opinions and keep in touch. Sign up for our monthly newsletter and delve into our pages.

Want to join in? Become an Intermix member to take part:




My Beautiful Launderette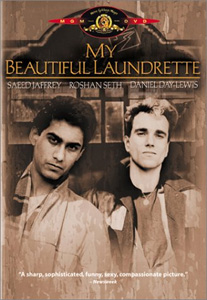 Omar, is a young restless Asian man caring for his alcoholic father in Thatcherite London. His only escape comes in the form of his uncle's many and varied business ventures.

Omar dreams of success so works to achieve it. Along the way he meets up with old school-friend Johnny, who has fallen in with a group of neo-nazis. Omar soon has Johnny working for him and his uncle. Turning the tables on him and forcing Johnny to rely on the very people he has been taught to hate.

Johnny is continually followed and watched by his old gang of friends who taunt him a for associating with Omar and his family whilst making almost no effort to better themselves; something which ambitious Omar strives to do.

Feelings develop between the two young men and a gay mixed-race romance ensues.

Written by Hanif Kureishi and directed by Stephen Frears, My Beautiful Launderette also gives us a perfect slice of Thatcherite Britain.
Have you seen this film? Why not tell us your views in the forums, click here: